Custom Built
Concrete Lifting Rigs
Trusted PURspray suppliers





Dan Watson
"I really appreciate all your help with the new trailer, you make my job easier and the boys certainly appreciate the way the trailer is set up - the layout is perfect!"  
Click here to read more.....

Justin Currie
"PURspray always has what I need, and if they don't they will track it down for you. Great customer service and the online website is perfect for tracking down the exact parts you need, and ordering them easily. I have nothing but great things to say about them!"

Moore Insulation
"PURspray is the place to shop for all your spray foam and fluid needs they constantly have my back whenever I call and its usually last min but they deliver every time"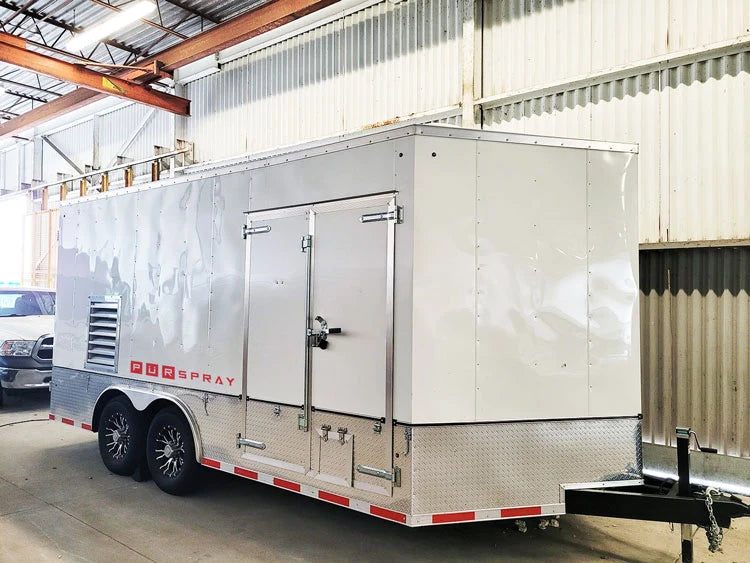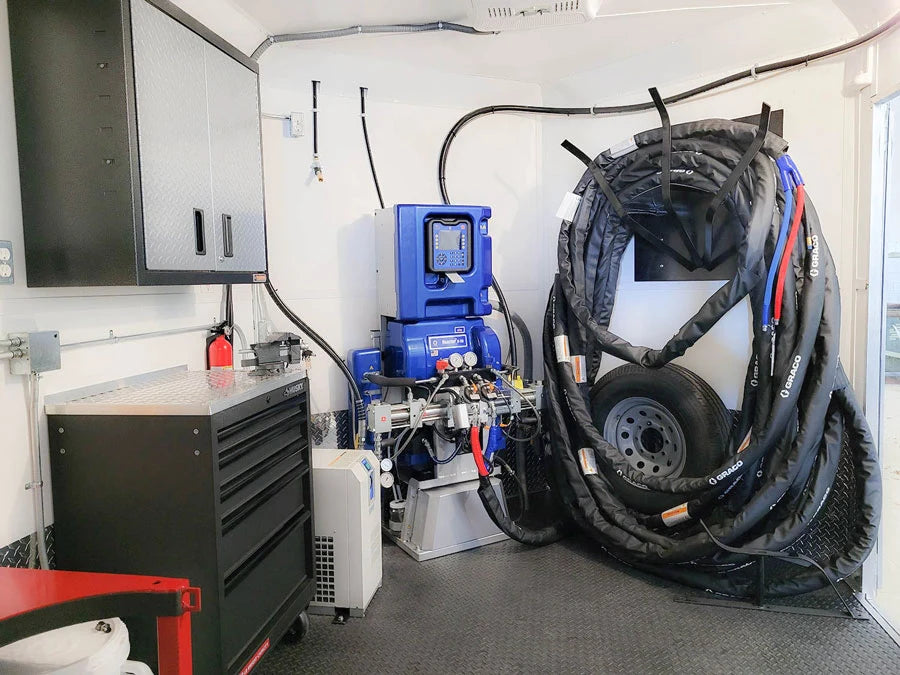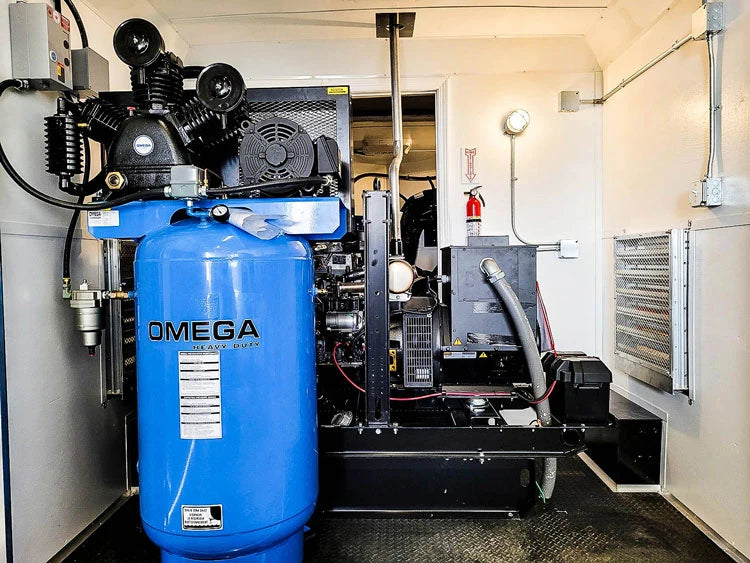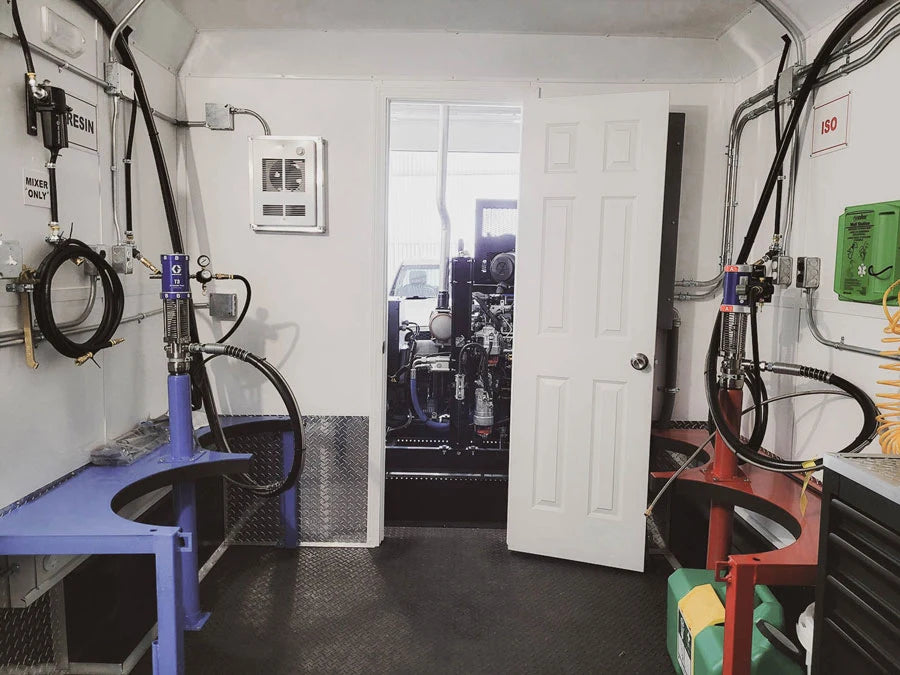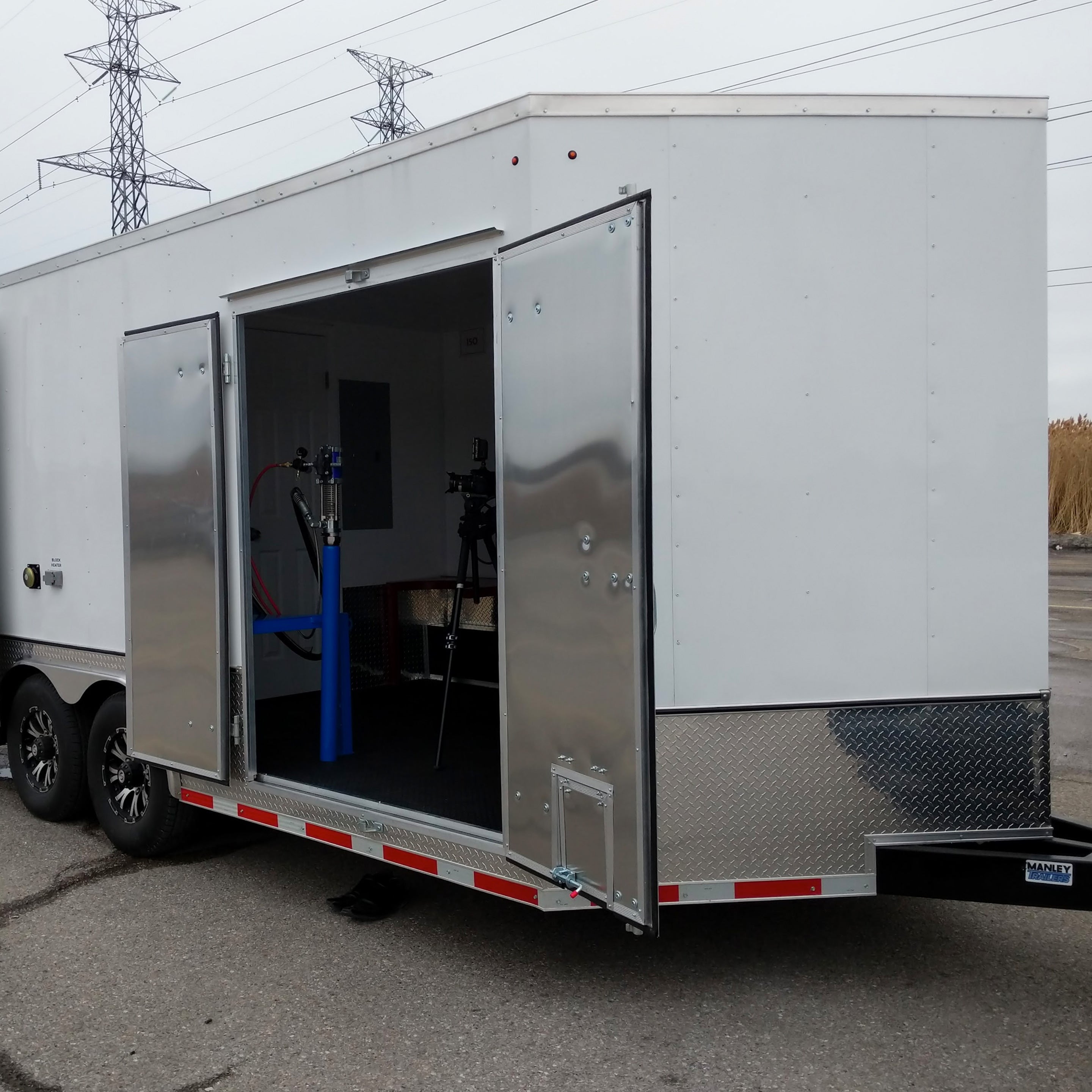 Example Rig Specs
- 16' V-Nose Trailer
- Full Insulation Package
- Interior LED Lighting Package
- Insulated Dividing Wall with 30" Access Door
- Rubber Diamond Plate Floor
- Graco Reactor 2 E-20 Standard
- 250' Graco Heated Hose Bundle with Xtreme-Wrap
- Graco T3 Carbon Steel Transfer Pumps
- Graco GX-7 Slab Jacking Gun
- SMC Refrigerated Air Dryer
- 40kW Isuzu Skid-Mounted Diesel Generator
- 7.5 HP 80 Gallon Vertical Air Receiver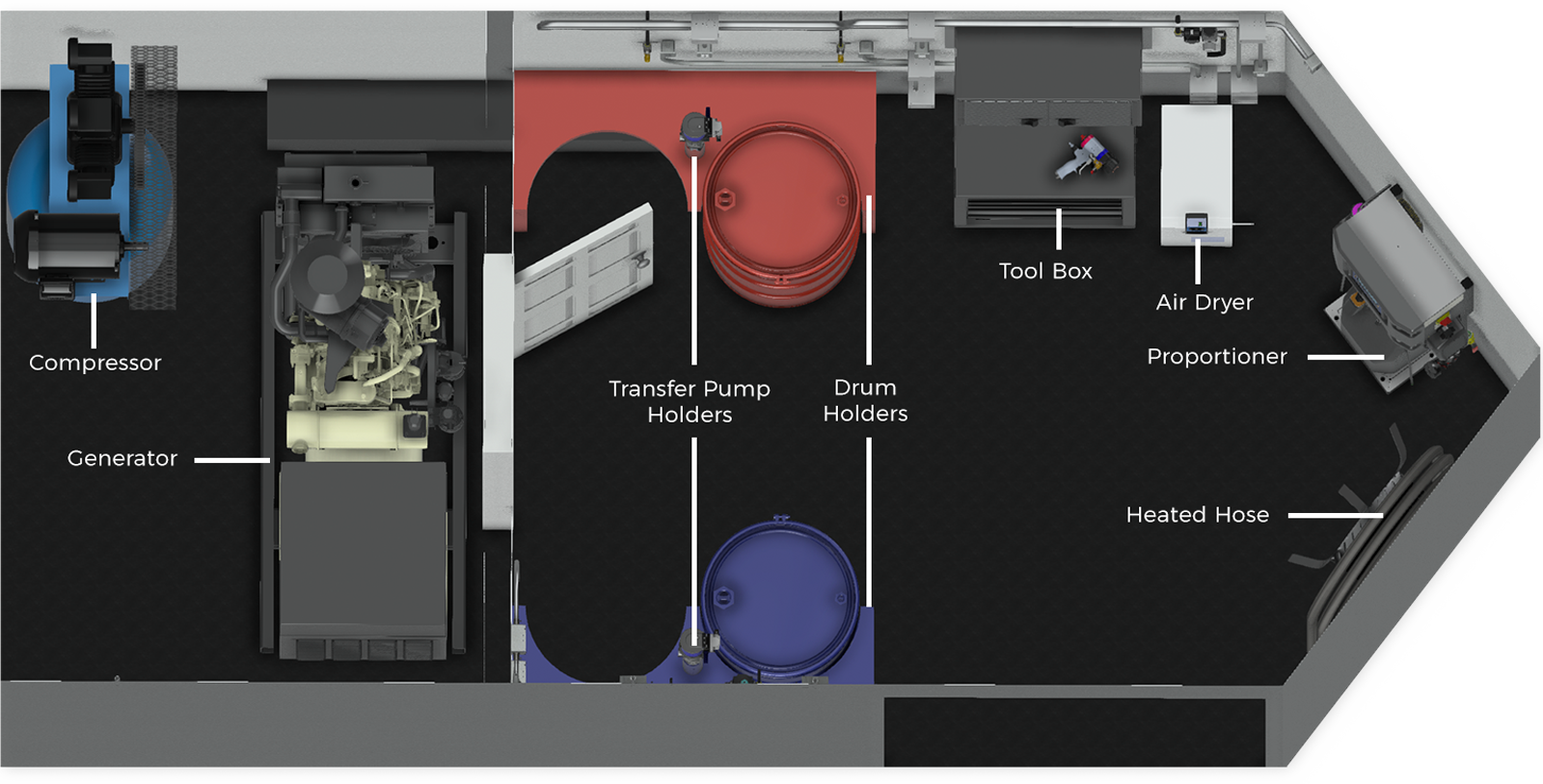 ⭐ ⭐ ⭐ ⭐ ⭐
Premium Quality Product
Quality guarantee – we build the highest quality, best-designed spray foam rigs in the country. Period!
Why PURspray
Quality foam rigs designed for durability with quality equipment and well-thought-out floor plans for ease of use. We are focused on maximizing your uptime and minimizing waste to keep your spray foam business running optimally. The up-front cost of a spray foam rig is a significant investment. Buying inexpensive, poorly designed equipment will cost your business excessive time and money.
We can get your rig to you faster than our competition. Trailers are typically delivered 10 to 12 weeks after placing your order.
Thoughtful design to keep you focused on spraying rather than fumbling with your equipment.
We offer full operation training and maintenance training with all our equipment purchases.
High-quality generators and compressors supported by service when you need it.
Best-in-class air-purifying and air-quality systems from Bullard.
Terms of up to 5 years. Pay off your rig while you make money spraying.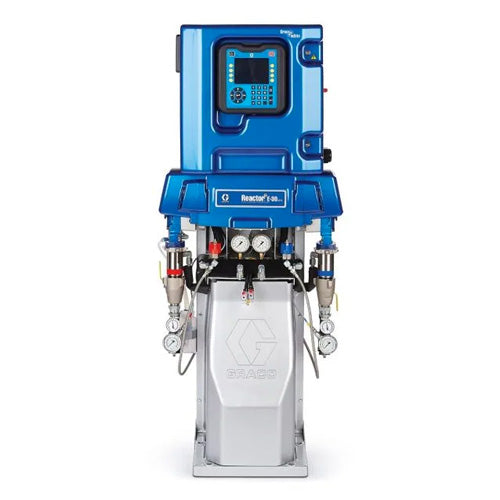 Proportioners
Choose from a wide range of Graco and Carlisle proportioner lineups.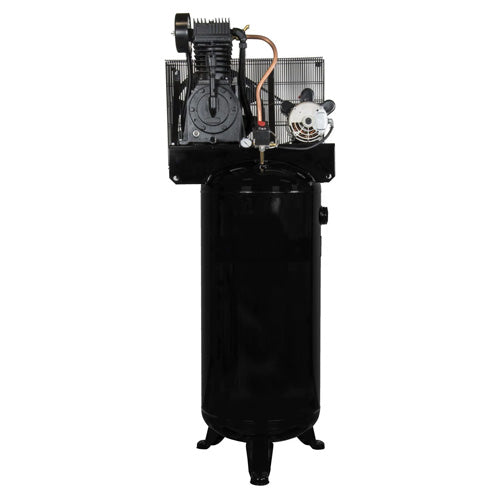 Compressors
Select a 5hp to 10hp standalone compressor in either a screw, hydrovane, or recipricating format.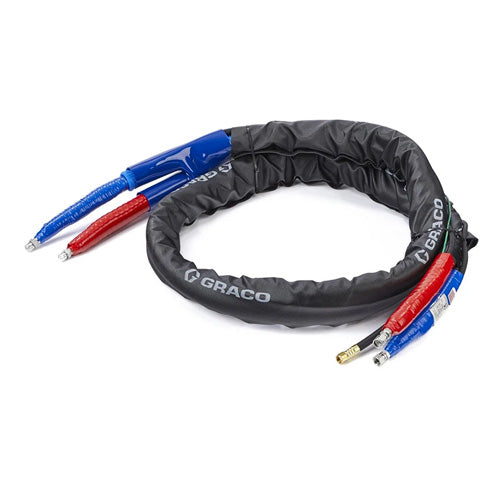 Heated Hoses
Heated hoses designed specifically for use with Graco and Carlisle Equipment. Hoses are a key component to the total system, making it important to achieve accurate and uniform heating for the best application possible.
Generators
Standalone generators are available from 25 kW to 80 kW. Also available is the Graco Integrated PowerStation, a generator and compressor combination designed to save on fuel, space, weight, and installation times. Designed by Graco specifically for Graco Reactor 2 proportioners.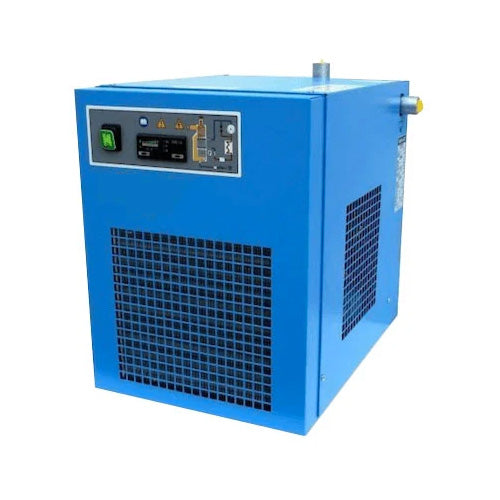 Air Dryers & Conditioners
Choose from range of air dryers and conditioners to assure proper function when working with moisture sensitive chemicals.