Electric Proportioner
Reactor 3
Fully Connected From Drum To Gun
Graco Reactor 3 System
The Worlds Most Advanced Spray Foam And Polyurea System
Katalyst Control For Reactor 3
Helps Eliminate The Largest Causes Of Off-Ratio Issues
Katalyst, the new Reactor 3 software, provides the highest level system intelligence to optimize spray, eliminate ratio issues, improve yield, to help deliver quality results every time.
Automatically shuts system down when material has run out so air does not enter into the fluid systemAutomatically adjusts power to the pumps to always provide optimal material feed to the Reactor, such as helping to eliminate issues related to cold materials
The Only Fully-Connected System From Drum To Gun
Reactor 3 Elite model with Core E1 Transfer Pumps are necessary to activate Katalyst System Intelligence. Standard and Pro models can upgrade hardware to activate Katalyst System Intelligence.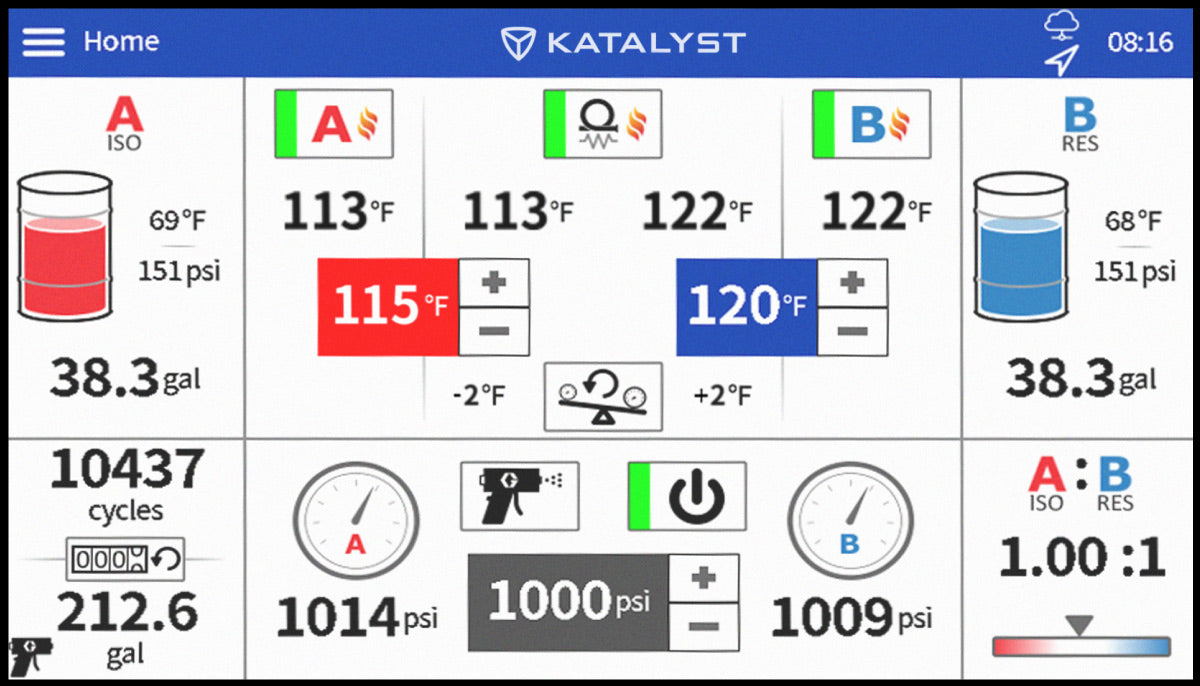 New Touchscreen Control
Easier To Control and Access Information
The new larger interface provides simple touchscreen operations and makes the Reactor easy to operate. All the necessary spray information and control is on one screen, making it intuitive and easy to understand. New setup menus offer more controls than ever for owners and managers to optimize the machine for their business needs.
Picture shown represents an Elite model.
Reactor Connect
Remote Monitoring Is Always Within Reach
Reactor Connect is designed for both Sprayers and Owners/Managers alike. Use Reactor Connect to track ratios, receive alerts and view data directly from your smartphone. As a result, owners/managers can monitor rigs, access reports, troubleshoot issues from anywhere and get the crew back to work quickly.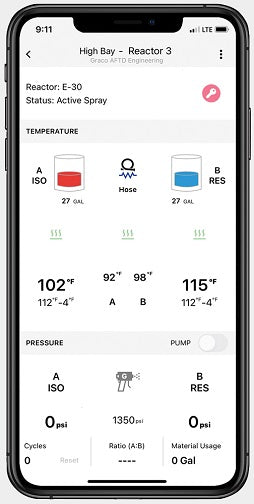 Reactor Connect App Features
REACTOR CONNECT SCREEN
Adjust temperature and pressure pointsView drum levelsTurn heat zones on/offView and reset cycle counter/material usageTurn system on/offTurn pump on/offToggle between Spray, Park and Jog modesView ratio
MULTI-SYSTEM DASHBOARD
Current Reactor statusDaily "power on" timeDaily "spray" timeDaily material usage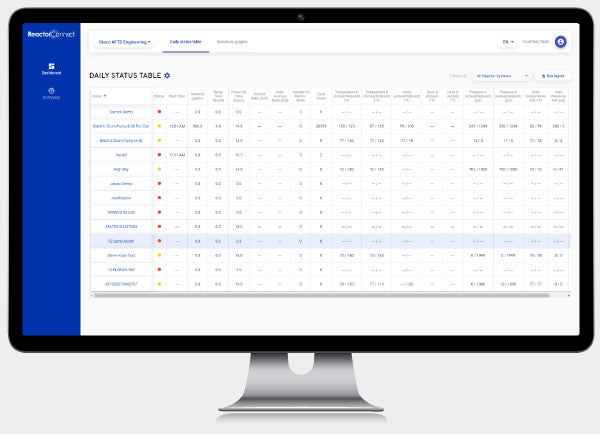 Reactor Connect Website Features
ONLINE INTERFACE
Create user accounts, company profiles and usersAssign Reactors to your accountsAdvanced Reactor analyticsControl accessGPS location mapsAutomated summary reportsCustomized reporting
Core E1 Electric Transfer Pumps Powerful, Quiet, Smart
Get in the flow with Graco's revolutionary NEW Core electric transfer pumps; designed to optimize material supply and minimize downtime. Quieter and less expensive to operate than traditional pneumatic pumps, the new electric pumps can communicate with the Reactor 3 to give you a fully-connected system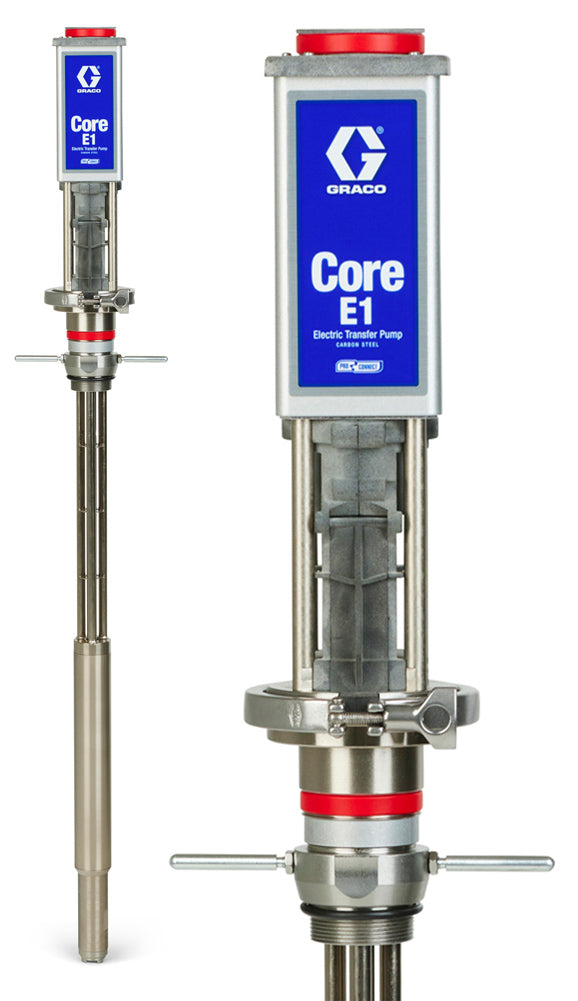 CORE
NEW SUPPLY PUMP SHUTDOWN
Senses when a drum is empty and automatically shuts down the transfer pumps and Reactor 3 proportioner before damage occurs, including air entering the system and that can compromise ratio.
NEW SMART SUPPLY
The software automatically monitors and adjusts Reactor 3 proportioner inlet pressures to optimize material feed and on-ratio performance. Maintains inlet pressure between 80-200 psi — boosting power to the transfer pump's electric motors when needed. Achieve Smart Supply when using Core E1 pumps with a Reactor 3 Elite model.
6X QUIETER
The Core E1 Pump is up to 6X quieter than pneumatic pumps. That's equivalent to reducing the sound in your rig from being as loud as a motorcycle to that of a car.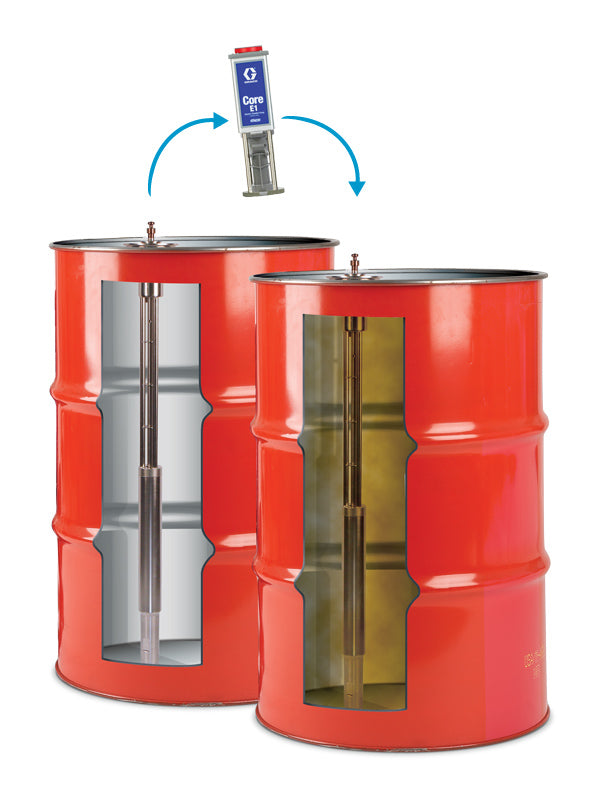 pro connect
With our exclusive ProConnect technology, you can quickly disconnect the motor from the pump lower and easily transfer the pump from drum to drum…even in low ceiling height rigs. Paying for taller rigs or having to tip the drum to remove the pump is no longer necessary. ProConnect is available on both the E1 and T4 pumps.
TIP: Have an extra pump lower installed on your rig to make changing drums even faster and cleaner.
Connections Made Easy
Connecting your motor to the lower just got as easy as 1,2,3
Step 1: Loosen T-handle
Step 2: Open Pump Clamp
Step 3: Slide Electric Motor to Remove
XCELERATOR HEATED HOSES
Faster to Heat, Lighter Weight, Improved Flexibility
Graco's new Xcelerator heated hoses provide more options and control than ever. All Xcelerator hoses are designed to provide full independent A and B temperature control. This provides more precise pressure balancing and improved material yield. New robust construction provides longer life and reduced maintenance.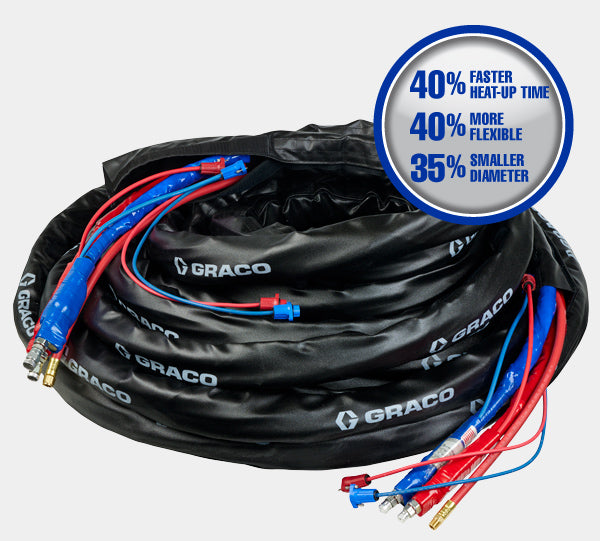 Xcelerator
Fully-independent A and B temperature controlInternally and externally heated optionsInternal Heated Hoses are available in both 50 ft and 100 ft lengths:Minimizes fluid and electrical connectionsOptimized for Resistance Control Mode:Reduces maintenance and issues with no cables or sensors required
New Internally Heated Hose
Smallest, Lightest Weight Connections in the Industry
The robust, compact design allows the heating element to enter/exit the fluid stream at each hose joint without adding significant size or weight.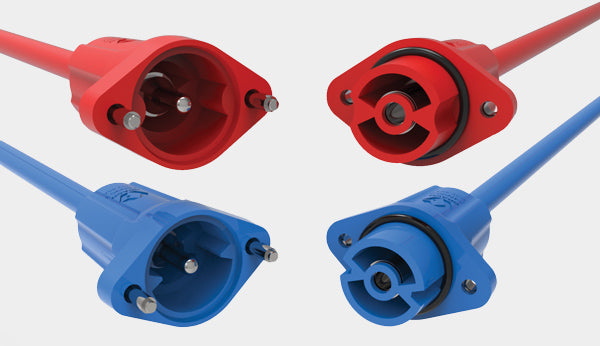 Hose connections that are lightweight and robust
Designed to provide strong, reliable electrical connections and are uniquely keyed to prevent incorrect connections